Imagine the Library of the Future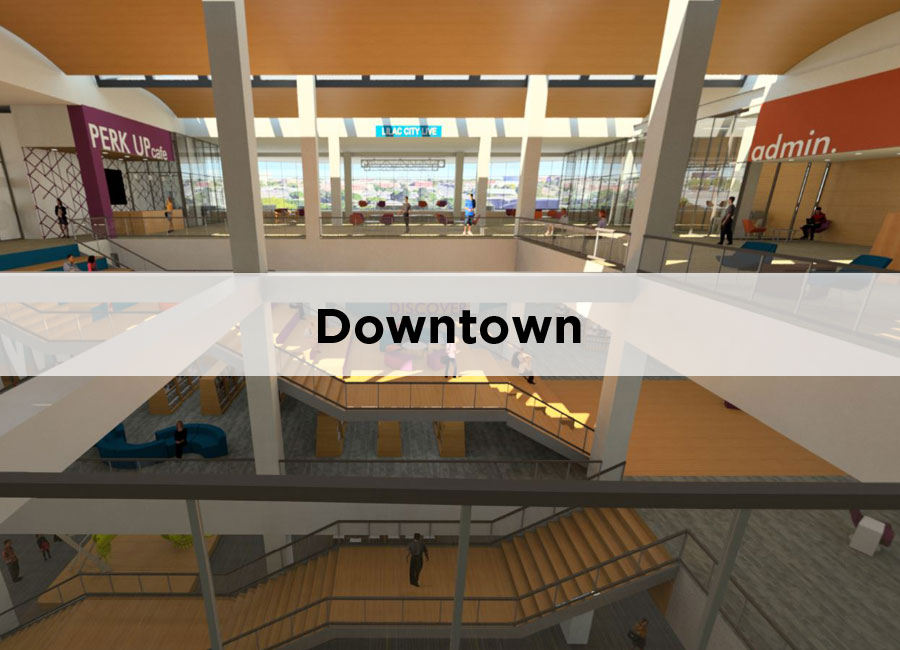 Spokane's main library, the three story, 117,000 square foot Downtown Library (906 W. Main Ave.), has experienced a significant shift in use since it opened twenty-four years ago. As public library use changes and as downtown Spokane becomes an increasingly attractive destination, SPL considers Downtown as a citywide hub of 21st century library services and a central place within the Spokane community.
Much of the building remains unchanged since its original mid-90's format. Most notably, the first floor – apart from the gallery and community rooms along Main Avenue – is dedicated to staff functions. A reimagined Downtown Library would recapture this space and create a vast range of opportunities for public use from the first floor up. Key "storefront" spaces facing downtown streets and riverside plazas can be transformed into public spaces ranging from maker spaces and creation labs to a dedicated music studio and relocated Level Up center, program rooms, art studio, gallery, and café with stronger indoor-outdoor connections. These spaces would be connected by an open Collaboration Commons, connecting the existing entrance and stairway to a second entrance, art yard, and pedestrian plaza facing Spokane Falls Boulevard and new street level plaza.
Space for library materials would still begin at the second floor, where a robust marketplace would extend the retail experience of River Park Square Mall across the skywalk. A vibrant Children's Discovery space would overlook the new riverfront plaza. Group meeting spaces would be incorporated along the east and west walls of the second and third floors, maintaining openness and sight lines from staff perches. Apart from additional group study rooms, the third floor would embrace the changes already made by SPL. The relocation of Level Up to the first floor would create more area for the Adult / Teen collection and reading space.
An option for the vertical connection between the second and third floors would be the construction of a social stair including a broad, gradual ascent adjoined by stadium-style lounging and furnishing. New openings would be made in the building's floor to strengthen connectivity, accommodate the social stair, and introduce a new public stair between floors 1 and 2.
Key Features
Recapture the first floor space for public use, currently used for staff only
Improved children's discovery area so we can impact early children's literacy outcomes
Improved areas for quiet reading and study
Flexible use spaces for large or small meetings
Addition of a café, in partnership with New Leaf Bakery
Reinvention of exterior surfaces to strengthen identity
Improved Northwest Room experience
Close